Post Work
2020
A small publishing project of my good friend Jonathan Blayney. In early 2020 wrote a short piece reflecting on the first month and a half 'stuck in the woods'.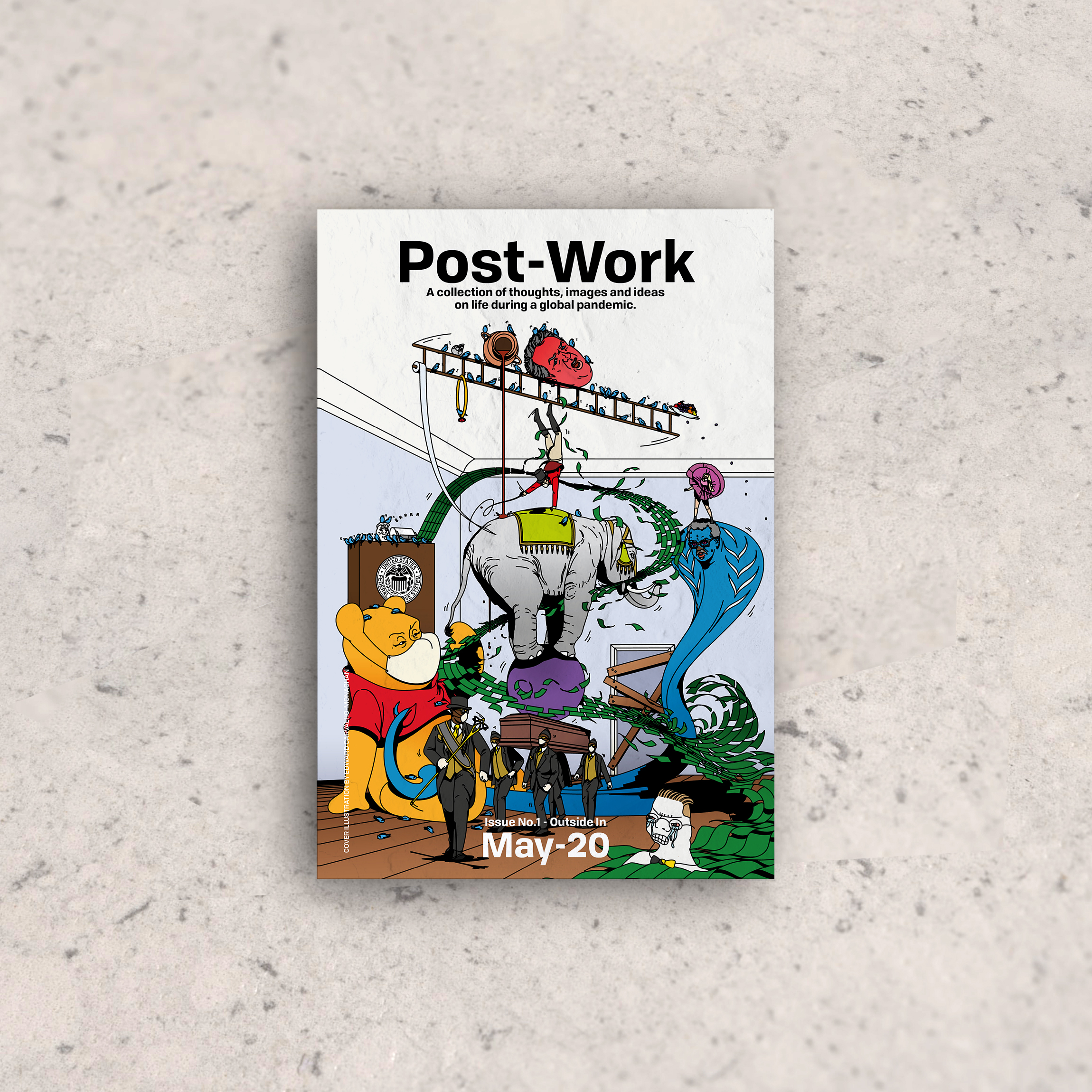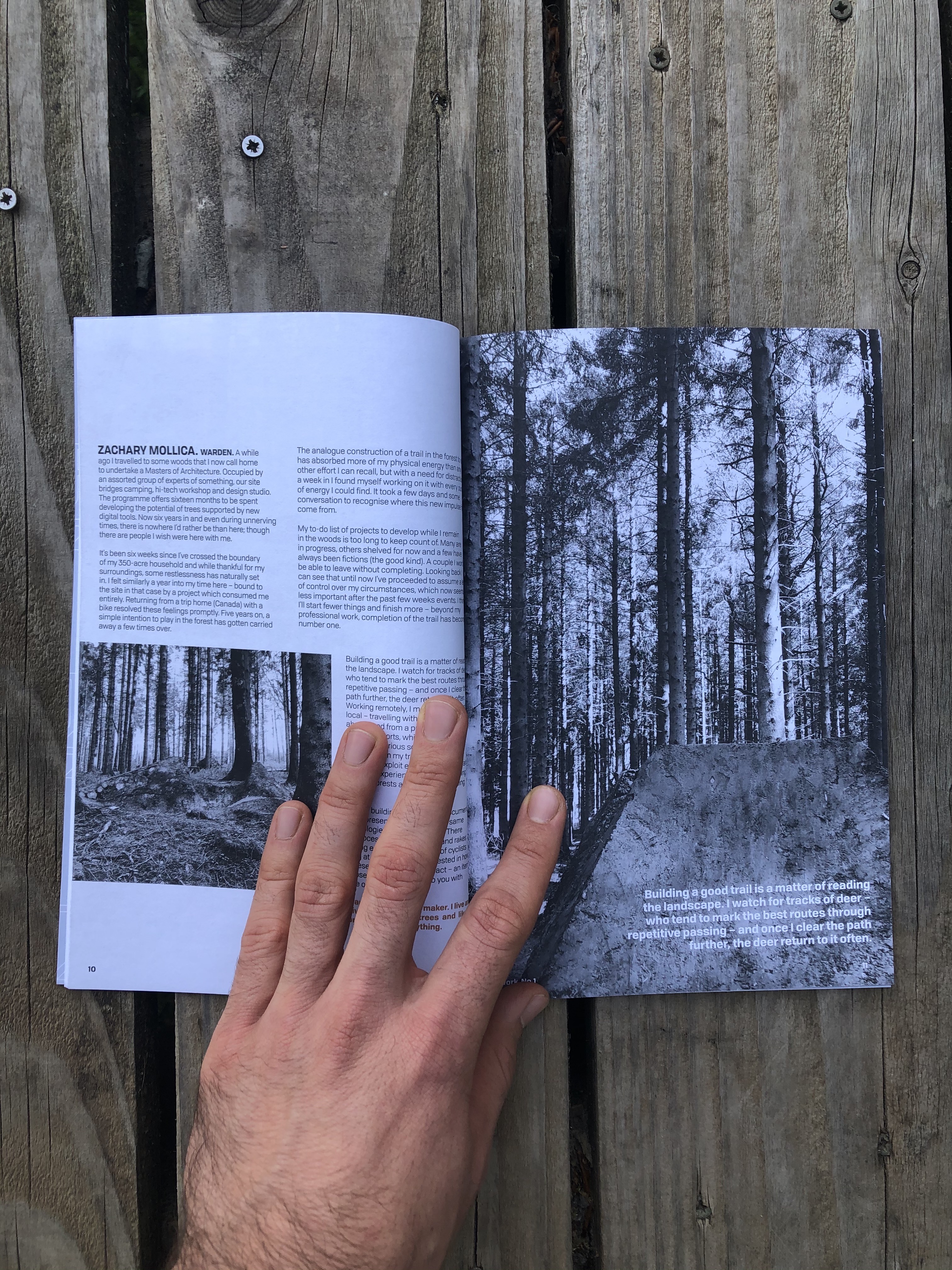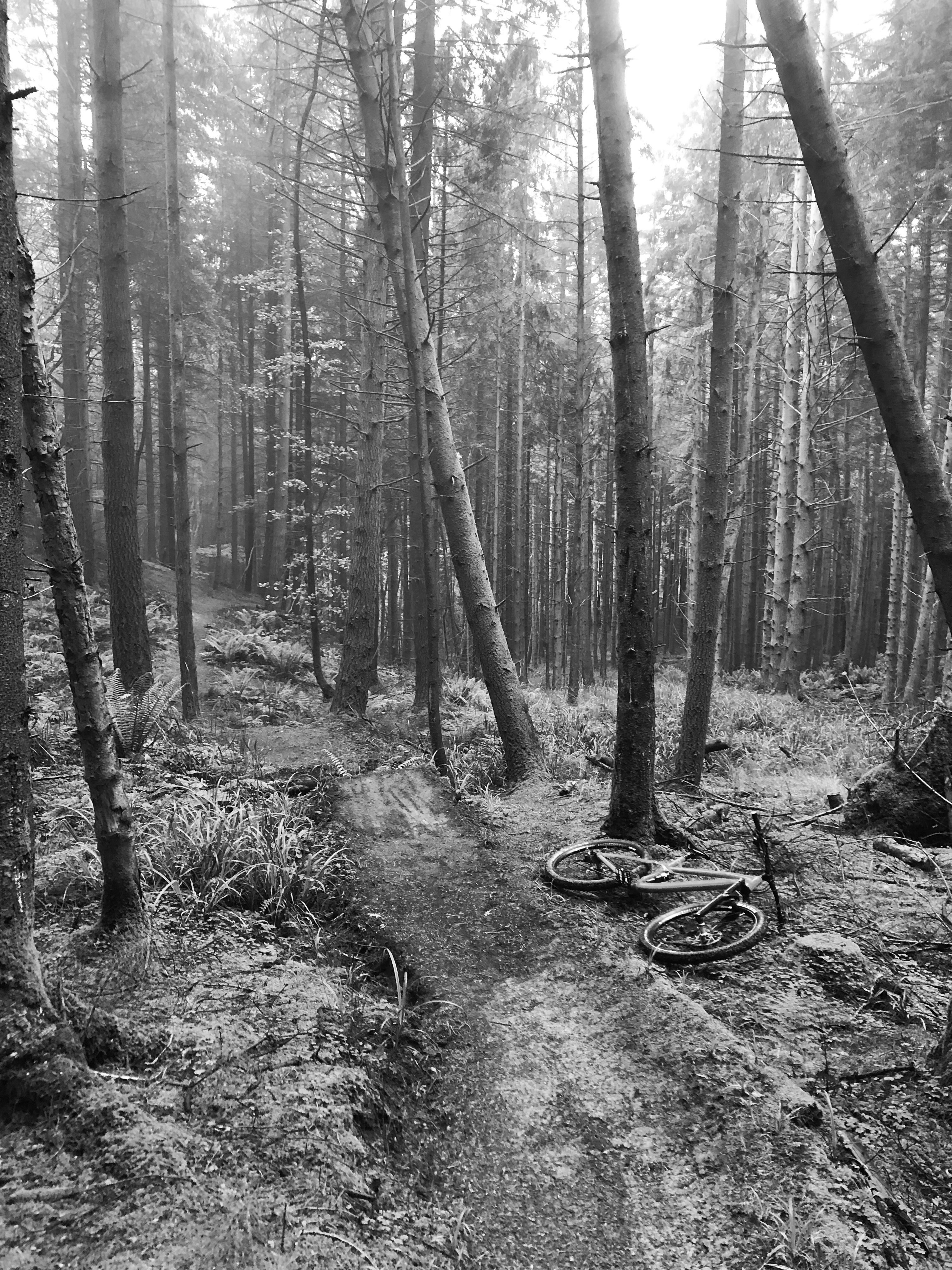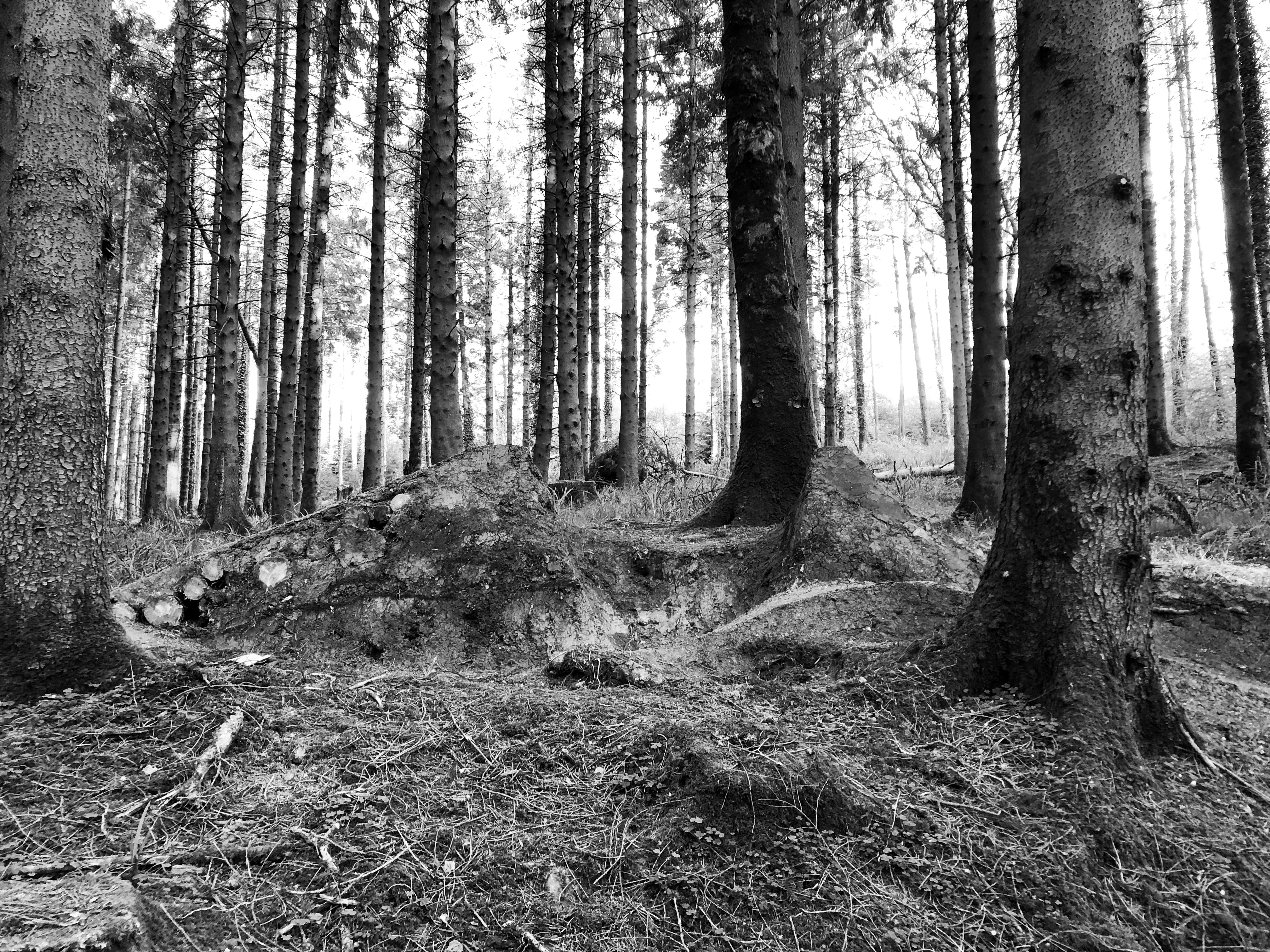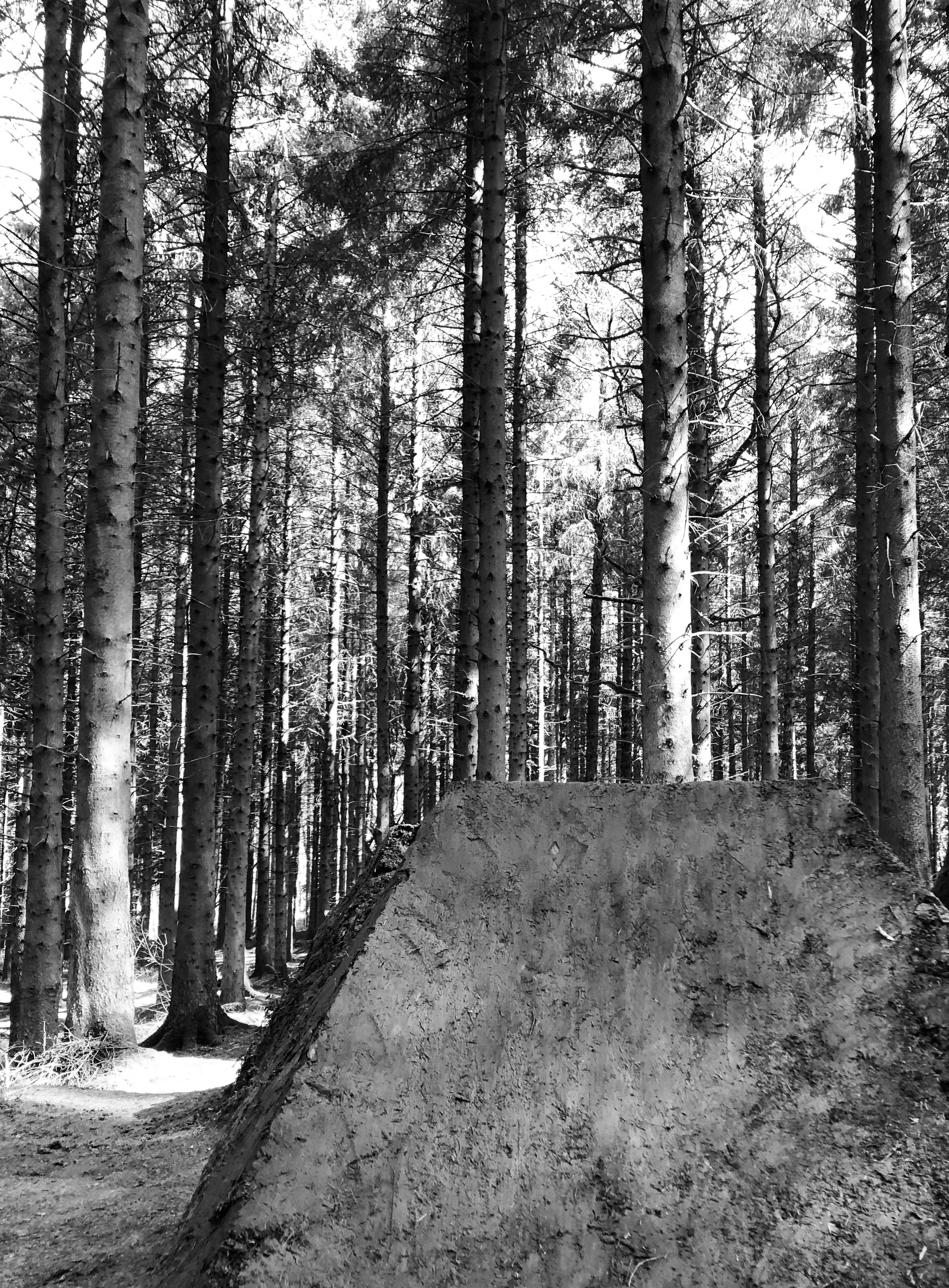 Here's the text:
A while ago I travelled to some woods that I now call home to undertake a masters of architecture. Occupied by an assorted group of experts of something, our site bridges camping, hi-tech workshop, and design studio. The program offers sixteen months to be spent developing the potential of trees supported by new digital tools. Now six years in, and during unnerving times, there is nowhere I'd rather be than here; though there are people I wish were here with me.
It's been six weeks since I've crossed the boundary of my 350-acre household. And while thankful for my surroundings, some restlessness has naturally set in. I felt similarly a year into my time here – bound to the site in that case by a project which consumed me entirely. Returning from a trip home (Canada) with a bike resolved these feelings promptly. Five years on, a simple intention to play in the forest has gotten carried away a few times over.
The analogue construction of a trail in the forest to ride has absorbed more of my physical energy than any other effort I can recall, but with a need for distraction, a week in I found myself working on it with every ounce of energy I could find. It took a few days and some conversation to recognise where this new impulse had come from.
My to-do list of projects to develop while I remain in the woods is too long to keep count of. Many are in progress, others shelved for now, and a few have always been fictions (the good kind). A couple I know I won't be able to leave without completing. Looking back I can see that until now I've proceeded to assume a level of control over my circumstances, which seems lesser after the past few weeks events. I think I'll start fewer things and finish more – beyond my professional work, completion of the trail has become number one.
Building a good trail is a matter of reading the landscape. I watch for tracks of deer – who tend to mark the best routes through repetitive passing – and once I clear the path further, the deer return to it often. Working remotely, I make do with what's local – travelling with only tools. Logs abandoned from a previous year's felling create supports, while deposits of clay, sand, and various soils each perform differently. On my trail, I see a unique chance to exploit every part of my brain and prior experiences. Design, making, physics, forests, and bikes; everything adds.
Beyond building it, I intend to document and represent the trail with the same technologies I work with daily. There are process films of shovels and rakes moving earth and final edits of cyclists riding at speed, but I'm interested in how to present a trail as an artefact – an item of obsession. I'll get back to you with more on that one.
Post-Work is a collection of thoughts, images, interviews, conversations and ideas on how our lives have been affected by a global pandemic. The aim of the magazine is to capture an intimate portrait of this uncertain time, so that we may have something permanent and tactile to refer back to in the future. Something which will hopefully remind us that the end of somethings are the beginnings of others and that our capacity to deal with great challenges is part of what makes us human.